How we increased the year-on-year traffic of organic by 40% using linkbuilding – SEO case study
Novynabytok.sk is the largest online store with furniture and home furnishings in Slovakia. It has been operating in Slovakia since 2007, in 2009 they launched an eshop in the Czech Republic and in 2018 in Hungary.
Case study: SEO, Linkbuilding
As organic search has stagnated or declined over the last 2 years, the client has decided to use the potential of the SEO service in ui42 digital in addition to PPC and Facebook.
The solution
Like many e-shop owners, this client did not initially have confidence in the effectiveness of linkbuilding. A thorough analysis of the website and linkbuilding opportunities needed to be carried out. The technical part of the page was fine-tuned enough, but the numbers still did not rise. We saw the biggest gaps in off-page SEO.
At first, we assumed a possible partial penalty from Google, but this assumption was not confirmed in the Google Search Console. In search of the cause, we decided to communicate our assumptions through a Google Webmasters hangout, where they confirmed that this was not a penalty.
Subsequently, while checking backlinks in the Google Search console, we identified the first potential problems with pofider links from untrusted sources. We decided to use the Disavow tool in the Google Search Console. This tool is used to distance untrusted links. Thanks to this step, we noticed the first shifts in a short time, so we decided to proceed to the elaboration of a linkbuilding analysis and a subsequent strategy.
First, we used information provided to clients about important business sites in combination with keyword analysis data to determine landing pages for linkbuilding. It was important for us to analyze the search results for relevant words for the given landing pages. This resulted in an analysis of the competition in the search results.
We focused primarily on sites that met the requirements for the fastest and easiest possible position shift and increased search visibility. 
Results
After a long-term stagnation of organic search, the year-on-year increase in traffic since the beginning of the cooperation (blue line in the graph – August) is at the level of 39%.

*SK: Merané obdobie: Od 1.1.2019 do 31.12.2019, porovnané s rovnakým obdobím v minulom roku. 
Pri revenue to znamenalo nárast od začiatku spolupráce o 16 % a počet transakcií o 4.8 %.


* SK: Measured period: From 1.1.2019 to 31.12.2019, compared to the same period last year.
Reference from the client: 
"We appreciate the professional and proactive approach of ui42 digital. They have moved our cooperation beyond the agreed activities to convince us of our further potential for growth. Thanks to ui42 digital, we achieved significantly higher traffic, as well as an increase in the number of transactions. " Novynabytok.sk
4 criteria for selecting relevant keywords
Business significance for the client in terms of margins
Sufficient cumulative search for relevant keywords
The ratio of competition and search
The average page position between the 1st and 2nd page in the SERP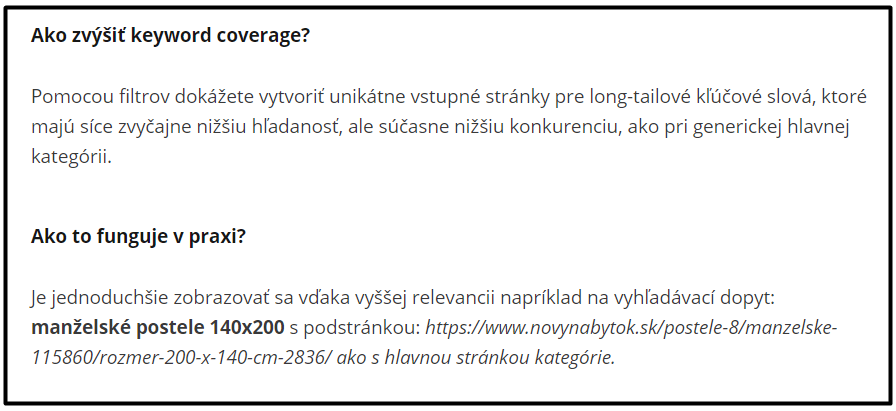 Tips on how to increase keyword coverage
Development of analysis and strategy
For the analysis itself, it was first necessary to filter out keywords that were relevant to the selected landing pages from the keyword analysis and obtain data for them. 

Keyword-level data
Based on this data, we obtained an analysis of the search results for these keywords. In this way we found out:
Who is direct and indirect competition in search?
The power of a competitive reference portfolio
Linkbuilding opportunities (housing magazines, bloggers, …)

The most common domains in the search results for a given dataset of keywords
Data needed to create a linkbuilding strategy:
Landing page prioritization so that it makes sense from a client's perspective to maximize profits, with respect to the potential for shift and overall search volume capacity
Data on the current client reference portfolio. In the case of the e-shop www.novynabytok.sk, we focused on distancing ourselves from potentially toxic links
Relevant keywords for these subpages, along with the data we used to gain insight into search competition
After identifying the strongest competitors, we were able to focus on the analysis of their link portfolio, where we revealed several link opportunities, whether an overview of thematically relevant portals with competition links, or broken links pointing to a competitor.
We also identified opportunities to place blog posts or publish articles when analyzing the top 5 pages of search results.
What is the secret ingredient of Vladimir and the SEO team? How did we help the client grow?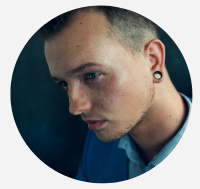 Vladimír Podkamenský (Project Manager. Technical SEO, Linkbuilding): "SEO is a long-term and complex activity. It's not about incorporating a single report. Properly tuned technical SEO is the basis on which it is possible to follow up on other activities, whether it is work on on- page SEO / content, or building a backlink portfolio that is often considered secondary to SEO today. At today's level of web solutions, content and backlinks can be just what sets you apart from the competition and increases your search visibility. "
David Kořínek – technical leader of SEO in ui42 digital. He is an SEO project manager for the Novynabytok project. He identified further potential for developing the benefits of the project for the client. After implementing technical and on-page assignments, he initiated link building activities on the project.
If you are interested in how we can help you, do not hesitate to contact us, we will be happy to help.